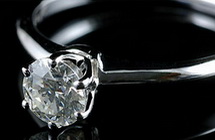 Looking to exchange your jewelry for cash? Or maybe you are tired of your old jewelry and looking to exchange it for something bolder or more in fashion. Whether you want to exchange old jewelry for immediate cash or exchange it for something new, the El Cajon jewelry exchange is what you've been looking for.
El Cajon customers can browse our jewelry exchange showcases, which regularly feature designer jewelry from leading names like Tiffany & Co., Cartier, Hearts on Fire, and Graff. Jewelry lovers can also shop from from our excellent collection of vintage and antique jewelry.
At our jewelry exchange, you can also exchange a diamond for cash or upgrade your diamond to a larger gemstone. Our diamond brokers are experts at locating GIA certified diamonds at below wholesale for the perfect engagement ring that won't break the bank.
Contact our jewelry and diamond exchange by calling (619) 236-9603 or by sending an email below. Let us show you why we are the top rated jewelry exchange in San Diego, with an A+ Better Business Bureau rating. Our jewelry exchange in the San Diego Gaslamp serves El Cajon customers weekdays until 5pm and Saturdays until 6pm.
The Best Place to Sell Jewelry - Top Rated Jewelry Buyers