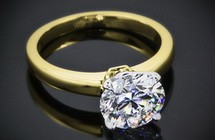 El Cajon Jewelry Buyer offers free on-site verbal appraisals of your jewelry, diamonds, and luxury timepieces—with no obligations to sell. If you live in El Cajon and want to sell jewelry or other portable luxury assets for the most cash, you can get the appraisal information you need quickly and free of charge.
By taking advantage of our A+ BBB jewelry appraisers, you don't need to pay the hundreds of dollars that is often charged when getting written appraisals from other San Diego jewelry appraisers.
Written jewelry appraisals are needed for insurance purposes. However, if want to know the hard cash value of your jewelry, so that you can sell it for a fair price, then come to El Cajon Jewelry Buyer. Our jewelry appraisers will give you a free market appraisal of your fine jewelry, watches, and diamonds.
Sell jewelry like a pro today. El Cajon Jewelry Buyers pays 75-95% of the wholesale market value of your diamond jewelry and Swiss watches. Compare our free quote with 3-4 or other jewelry serving El Cajon, California. We think you'll see why we are consistently rated the best jewelry buyer serving the El Cajon community.
Call El Cajon Jewelry Buyer at (619) 236-9603. You can also send our estate jewelry appraisers a quick message using the form below.